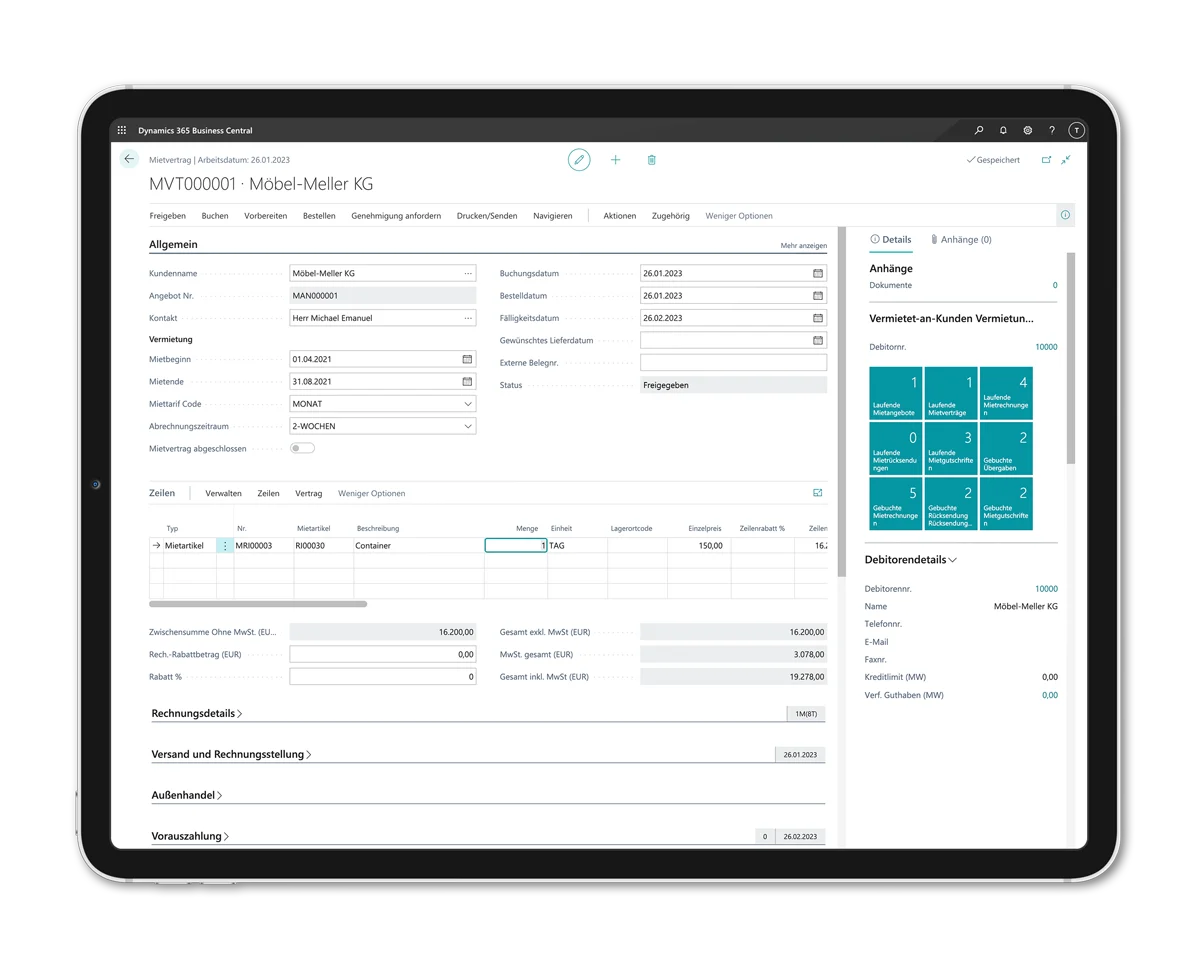 The perfect rental solution Cloud ready, open source and fair prices.
The Business Rental rental solution is designed for use in the Microsoft Dynamics 365 Business Central cloud and puts your business on a future-proof footing.

With Business Rental, you have an overview of your rental fleet and the associated rental contracts at all times. No matter whether you want to rent out containers, forklifts, cars, work platforms or holiday homes – you always have all the processes at your fingertips with just a few clicks.

You can manage your fleet with a clear and modern view. With just a few clicks, the invoicing of your rental contract is done and your customer receives his or her invoice. At any time, you can see where each piece of equipment is located and whether you have created all invoices. The creation of offers is also done quickly. Depending on your needs, you can decide whether you want to offer a daily, weekly or monthly price and also decide this individually for each rental contract.

You are completely flexible as to whether you charge for a five-day week or basically from Monday to Sunday. For each operation, you can choose whether it is a two-hour rental or a long-term rental with an automatic rental contract extension. It is possible to bridge order peaks with an external rental and to send the rental invoice – quickly and easily – directly to your customer.

If your industry works with so-called stand days, the processing is also possible and the amount to be credited is automatically offset against the next invoice. Machines and equipment that are delivered to your customers with certain accessories are tracked in Business Rental to ensure that you receive the machine back with all keys and operating instructions or that you can charge the costs on in the event of an incident.
Roadmap Business Rental 2021
July 2021
Asset integration
End of September 2021
Service proposal system
Stand days
Automatic rental extension
Quarter 3 2021
Automatic service order after return
Rental accessories
Quarter 4 2021
Rental item history
Disposition processing / planning board
Integrated service offers real added value.
Via the integrated service in Microsoft Dynamics 365 Business Central, you have the option of creating service orders, deploying spare parts and fitters on site if necessary, entering travel or small parts flat rates and invoicing customers for service.

In addition, you can store maintenance and service intervals for your machines and, at the touch of a button, display which machines need attention.

This ensures that you do not overlook any UVV or DGUV and that you always hand over absolutely safe equipment to your customers and that the liability issue is clarified. If you have a long-term rental agreement with one of your customers, always keep an eye on the dates. This also applies to equipment that is not part of your rental fleet, but for which you have only been commissioned to provide the service.

Should you wish to carry out a check when the equipment is returned, you can post the costs incurred to internal accounts in order to keep track of them. Via defined additions, you can determine whether you want to charge on a cleaning flat rate or collection, for example.

In your Microsoft Dynamics 365 Business Central ERP system and the Business Rental industry solution, you can also work with multiple storage locations and branches to efficiently map your processes.
Contact us
Open Source and fair prices.
Business Rental is open source and published under the APGL3 license, so you have absolute future security and the possibility to have our code checked by third parties.
* during our business hours
Professional Edition
5 € / Month
Business Rental
Installation via AppSource
Licence per user
Support with 24h response time*
Enterprise Edition
28 €* / Month
Business Rental
Installation service
Beta access
Support with 2h response time*
Developer service for extensions
Premium Pull Request Service